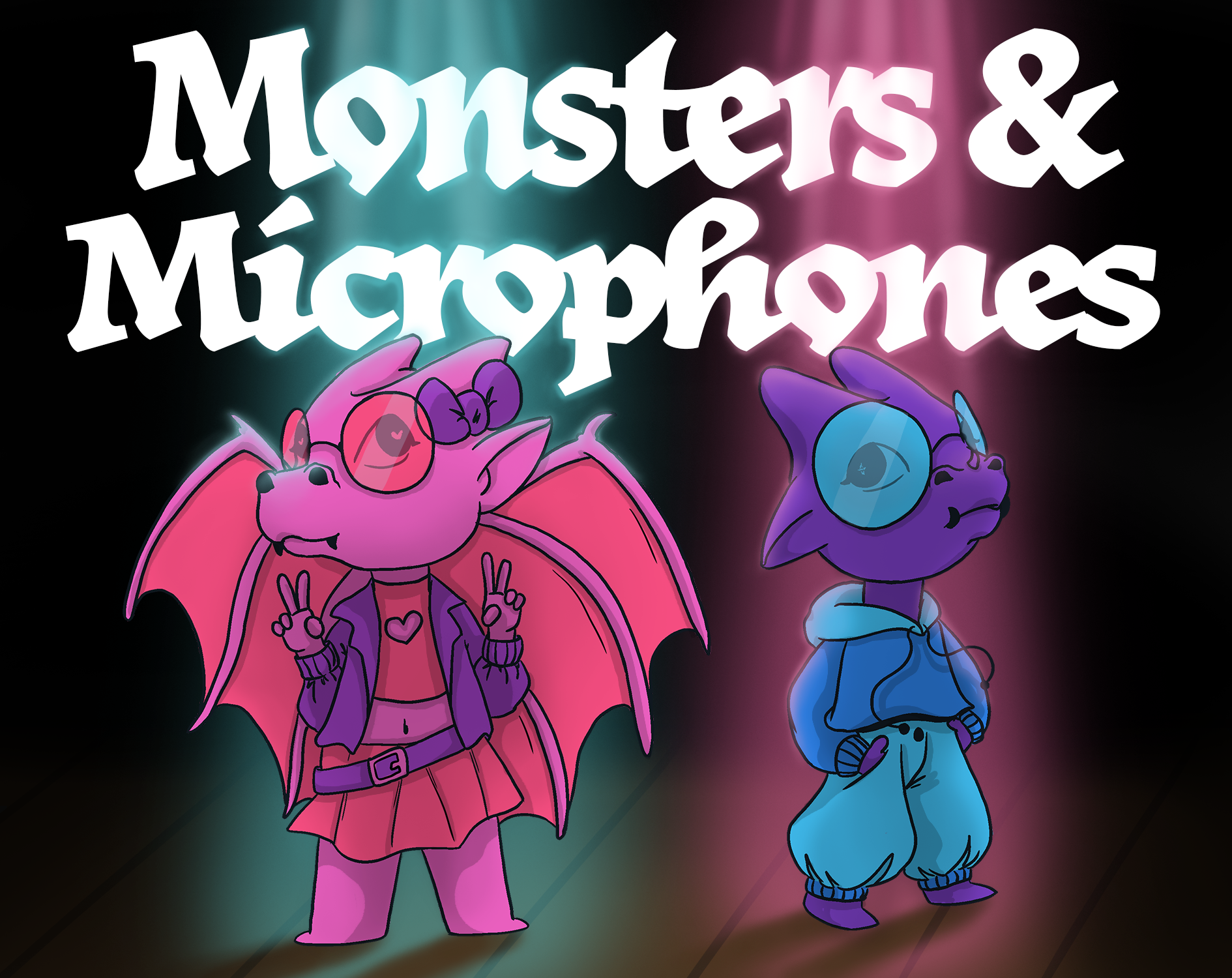 Monsters & Microphones
Monsters & Microphones is a tabletop role-playing game for 2 or more players. Become a tiny monster, grab a microphone, and absolutely ROCK the Faetopia battle of the bands! Use your monster magic and musical powers to knock the other bands out of the bracket and be crowned monarchs of music by the Archfey! There's a sick song and dance routine in your monstrous little heart, and it's time to make that everyone else's problem.
One page front and back with simple rules, Monsters & Microphones is the perfect game for convention play or one-shot nights with your regular ttrpg group. It also serves as a fantastic entry point to tabletop role-playing games for anyone who loves little monsters or music. Grab some friends and dice, roll up some characters and the band to beat, and start rocking out!
Art for Monsters & Microphones was done by Brighid de Danann. Find more of her incredible work on Twitter and Twitch.
What you need:
To play Monsters & Microphones you will need the following materials or digital versions if playing online:
4 six-sided dice (d6)
A writing utensil
A piece of paper to make notes about your character
1-4 additional players
(Optional) Sick music references
Online Play
Monsters & Microphones can be played online in any virtual tabletop setting as there is no grid or rigid combat system. Players can use digital note-taking mediums or digital dice where preferred or where physical versions are inconvenient. If playing online, consider choosing a medium where the GM (or players!) can share music with each other for each round of the battle.
Live Plays:
For a peek at what you can expect from a game of Monsters & Microphones, check out this live play from my Twitch channel! Thanks to @BriDanann, @Jenk_Hankins, @ScrivTheBard, and @NinjaPenguinAM for playing with me! Gameplay starts around 3 minutes with character descriptions.

Purchase
In order to download this game you must purchase it at or above the minimum price of $4.99 USD. You will get access to the following files:
Monsters and Microphones.pdf
427 kB
Extras
Support this game at or above a special price point to receive something exclusive.
Community Copies
This is for those who want to rock out with their monster pals but the cost would cause financial hardship. For every copy of the game purchased at full price, I will add a community copy for those who need it. Please take advantage of this if you need to.